Zdumiewająca i "merytoryczna" dyskusja radnego z urzędnikiem
27 czerwca 2022
Pisma, które wysyłali do siebie gliwicki radny PiS – Gabriel Bodzioch – oraz rzecznik prezydenta Neumanna – Łukasz Oryszczak, przejdą do historii.
Tyle merytorycznej treści, wyszukanych argumentów, "lekkiego pióra" nie widzieliśmy już dawno w żadnym urzędowym piśmie. Szkoda tylko, że to wszystko za nasze, podatników pieniądze.
Przechodząc do sedna. Radny Bodzioch zapytał w piśmie dlaczego nazwisko posła PiS Jarosława Gonciarza nie zostało wyróżnione w artykule opublikowanym w urzędowych mediach. Wspomniane wyróżnienie to pogrubiona czcionka. W ten sposób wyróżniono nazwisko prezydenta Gliwic oraz jego zastępcy. Posła już nie.
Radny napisał więc do prezydenta: "1.06.2022 r. pojawił się artykuł Wspólnie dla Gliwic dotyczący spotkania Prezydenta Miasta z posłem Panem Jarosławem Gonciarzem. W tym artykule szczególnie zostały wyróżnione dwie osoby poprzez pogrubioną czcionkę: Pan Prezydent Adam Neumann oraz jego zastępca Mariusz Śpiewok. W związku z tym zwracam się z prośbą na odpowiedź na następujące pytanie: 1. Dlaczego nie został wyróżniony Pan poseł?" – napisał radny Bodzioch.
Na odpowiedź musiał poczekać dwa tygodnie. Zapewne jej przygotowanie wymagało sprawdzenia wielu rzeczy i przygotowania się do tak merytorycznej odpowiedzi. Jednak w końcu pismo nadeszło, a w nim urzędnik – rzecznik prezydenta Neumanna – poinformował krótko: "w odpowiedzi na Pańskie zapytanie z 2 czerwca uprzejmie informuję, że stało się tak bez wyraźnego powodu".
Jak widać urzędnicy urządzają sobie przepychanki słowne. Szkoda, że my za to wszystko płacimy. I to niemało.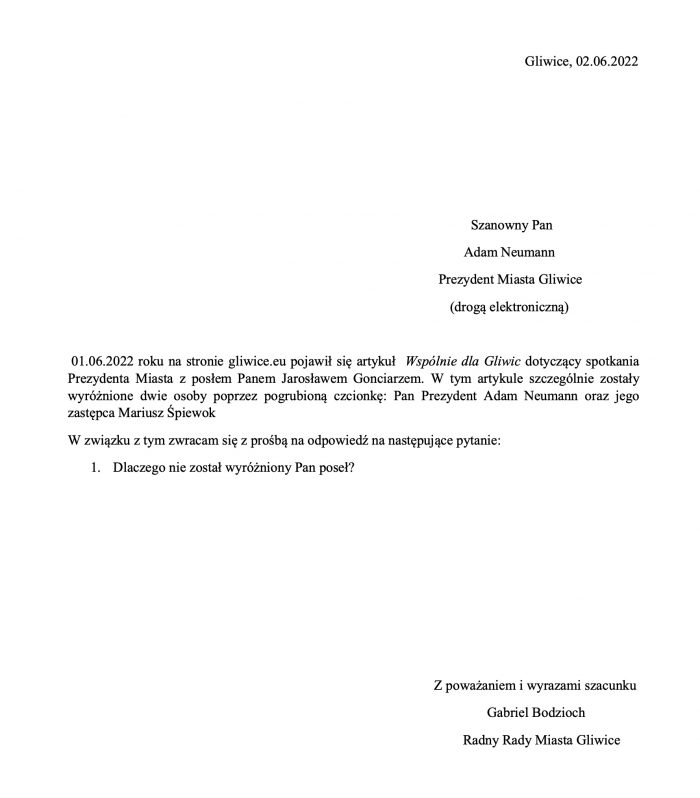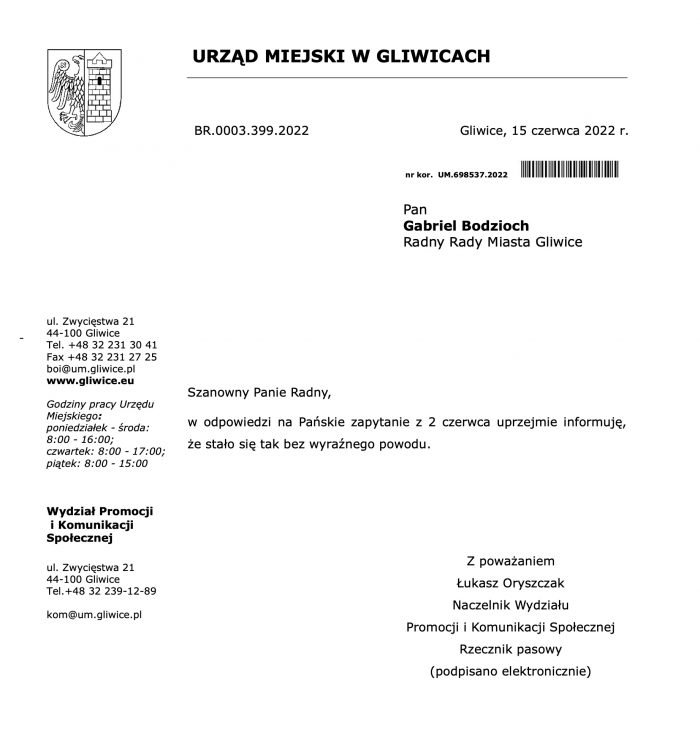 fot. FB Gabriel Bodzioch / UM Gliwice