Ochroniarz okradał firmę, w której pracował
17 lutego 2023
Sprawa doboru właściwych kadr, szczególnie w sferze ochrony, to poważne wyzwanie dla niektórych firm. Nie każdemu można powierzać tak ważne zadanie, co pokaże poniższy przykład.
Ochroniarz, zamiast dbać o oddane mu w dozór mienie, podkradał. W chwili zatrzymania przez policję posiadał przy sobie prawie 35 tysięcy złotych w gotówce. Rzecz działa się w Gliwicach, a zatrzymania dokonano w Zabrzu.
"Pewien przedsiębiorca z Gliwic zawiadomił, że w lutym bieżącego roku zaniepokoił się dziwnymi ubytkami sprzętu elektronicznego, który sprowadzał do jednego z magazynów. Importowana różnoraka elektronika oraz elektronarzędzia kupowano paletami, więc początkowo trudno było stwierdzić, czego i ile ubyło.
Pokrzywdzony powiadomił policjantów z III komisariatu. Uzgodniono, że przydatny będzie zapis monitoringu, a że takiego dotychczas nie było, przedsiębiorca dyskretnie zainstalował ukrytą kamerę" – informuje policja.
"Czekać nie trzeba było długo – kamera ukazała prawdę. Pracownik, mający zadanie pilnować, podbierał towar. Działo się to w godzinach nocnych, gdy nikogo w magazynach już nie było" – informuje KMP.
Kryminalni z "trójki" natychmiast pojechali do Zabrza, do miejsca zamieszkania "przedsiębiorczego stróża" i przeszukali jego lokal oraz samochód dostawczy, którym dysponował.
Oczom funkcjonariuszy ukazały się całkiem pokaźne ilości pudełek ze skradzionym sprzętem. Policjanci przeszukali też zatrzymanego, przy którym znaleźli "skromną" kwotę – 35 tys. zł.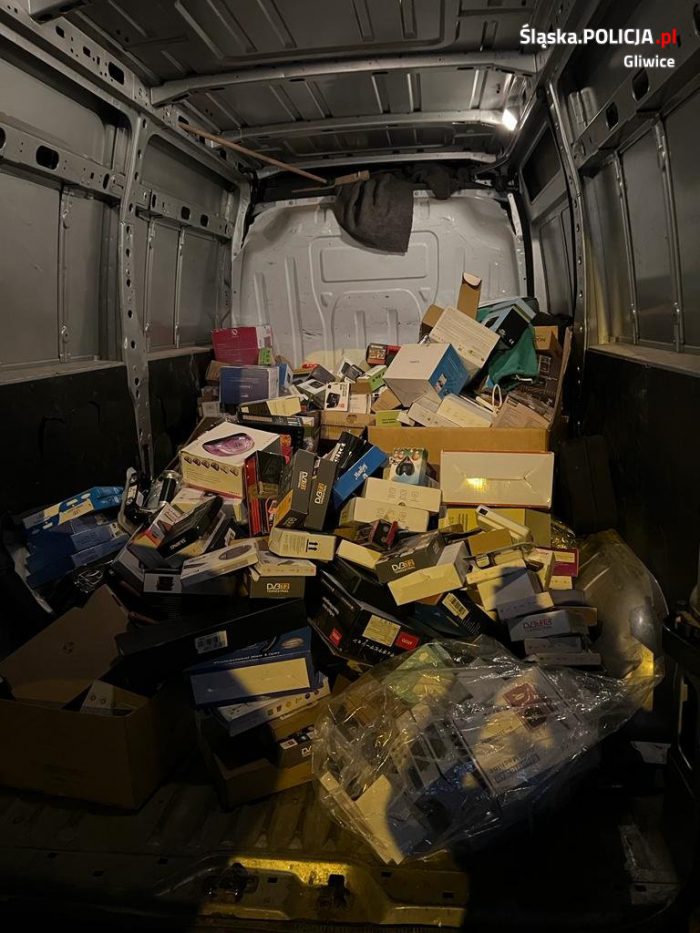 Przed śledczymi stoją teraz zadania ustalenia odbiorców towaru, określenia czasu procederu oraz łącznej wartości przywłaszczonego mienia, wstępne szacowania wskazują na kwotę powyżej 80 tysięcy złotych.
Ciekawostka: 50-letni podejrzany nigdy nie był notowany, nigdy nawet nie zapłacił mandatu. W najbliższym czasie ten stan rzeczy się zmieni…
Przypomnijmy, że za tego rodzaju przestępstwo kodeks karny przewiduje do 5 lat pozbawienia wolności.